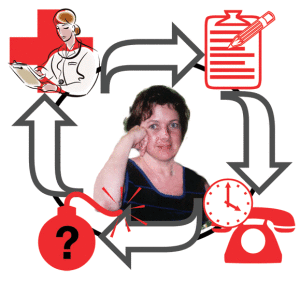 It's bad enough to experience a number of misfires during diagnosis as I had, but once cancer was confirmed I was very anxious to have treatments start immediately. Unfortunately I ended up on the receiving end of a treatment runaround and a few setbacks, and it was enough to drive us crazy. 
My Gastroenterologist, after diagnosing my cancer, told me that I'd likely to start treatments in late December. To me, treatments to destroy the invasion in my throat couldn't start soon enough. I was already very anxious and fearful, and I worried that any delay would increase the risk of it spreading and worsen my prognosis.
I was referred to a Radiation Oncologist who specialized in esophageal cancer, located in a cancer centre at a hospital in my home town. (By the way, if I interchange esophageal and throat as the type of cancer I had, it was because the doctors were calling it both those things due to the location of the tumour.) After several phone calls to my Gastroenterologist I was finally given an appointment with Radiation Oncology on Christmas Eve. So much for starting treatments before Christmas.
My Oncologist told us that I had a one in three chance of surviving, told us the procedures and expected side effects, then whisked us out. Her nurse then wished us a Merry Christmas. Was she serious?! How could anybody be that out of touch with their patient's frame of mind? I wanted to smack her, I know it's wrong, but I really did want to (blame it on my emotional state at that time.)
I was then assigned to a Chemo Oncologist. I underwent a procedure to receive a dual PICC line that would be the pipeline for administering my chemo medications. "All right" I thought, "now here we go!" I was already gleefully imagining the little black cells dying a horrific death and was pleased with the imagery of it. I couldn't wait to get started.
The Oncologists told me that treatments would now start early January. It didn't happen.
Holiday vacations at the hospital derailed the treatment start date. The booking coordinators didn't seem to feel the same sense of urgency that I was feeling, and my oncologists' treatment schedule requests piled up on their desks while they were away. I was told that nobody looks after each others' requests in their absences. Shame.
While waiting for a treatment schedule, I was sent for a CT scan to pinpoint the exact location and size of the tumour. The tumour showed up clear as a bell, but the scan also revealed two funny shadows in my abdomen. Chances were that my cancer hadn't metastasized but a PET scan was scheduled to determine this.
Treatment was now postponed another week while they waited for the results. We were now well beyond the original start date.
During these delays, our case was assigned to a very young, fresh out-of-school Therapist/Counsellor who appeared to be very naive (I say "our" case because both my husband and I had access to all of the cancer care resources and he was just as much involved in this as I was.) In my humble opinion she just didn't have enough life experience to effectively help a grieving and emotionally distraught couple deal with such an overwhelming blow. She kept telling us to "empty our emotional bucket", but how? I mean no disrespect — I'm sure that with continued experience, growth and learning she will become an effective Therapist but at that time I needed someone who'd been in the trenches and could help us cope.
Out of the blue I was then reassigned to a different chemo oncologist, recently out of internship, with no explanation. Treatment was delayed once again.
At the end of January, after several delays, I received a voicemail from my Oncologist to call her back urgently. After repeated attempts to call her back, I was informed that she was taking some time off. I phoned the nurses' station at the cancer centre to have her paged.
The Oncologist informed me that the Director of the cancer centre said they were not equipped to deal with my case even though she insisted she could treat it. The concern was that if they treated it as an esophageal cancer rather than head and neck cancer, it would end up being under treated.
During this whole period of time there were numerous enquiries as to what's going on, and we received little information.
I still hadn't received the results of my PET scan either. That was the last straw. Seaghan called the CEO's Executive Assistant to lodge a formal complaint about the run-around and lack of communication. The complaint was then sent to the newly-created Patient Representative Office. Subsequently we received a call back from the chemo oncologist who informed us that I was being sent to a cancer team specializing in head and neck cancer, located at the Odette Cancer Centre at Sunnybrook Hospital in Toronto.
We also found out that the Radiation Oncologist had received the PET scan results over a week ago and had failed to notify us. The results were negative, so it hadn't spread and they could focus on a cure rather than "quality of life" treatments.
Sunnybrook wasted no time in getting down to business. I was seen immediately. It would now be roughly 7 months from when my symptoms first appeared to the start of my treatment. By this time my tumour had grown to 4 cm long. Treatments were urgently scheduled to begin only a week away, on Feb 11. The runaround had ended and the fun began.
—Sandi
p.s. Being referred to Sunnybrook turned out to be the best decision possible. I couldn't have been happier with the oncology team assigned to my case.
Next: Get organized before treatment starts.