My treatments were behind me, with nothing but rest and convalescence in front of me. Make no mistake, the rest was sorely needed. I was very fatigued so I still slept quite a lot. It took a few months but once I started getting some strength back and my immune system strengthened up a bit, I wanted to go out and do something, anything. I was getting antsy.
Having my convalescence begin at the end of winter had its perks. The snow was beginning to melt, and I was vigilant in looking for the first signs of spring buds. Since I was likely to need until the end of summer to recover, I looked forward to seeing the gardens come alive again. I would be home to enjoy them for a change.
My first adventure? The grocery store, yay!  I hadn't been out anywhere except to treatments and doctor appointments, so this was real excitement. I tagged along with Seaghan because I wasn't strong enough to manage it by myself yet at that point. Thank goodness for grocery carts. Their handles provided good support because halfway through I was thinking that it was a bad idea, I'm not strong enough to be on my feet that long.
Getting behind the wheel of my car again was surprising — it took more effort than I thought it would to turn the wheel — even just activating the turn signal required effort. Up until that point I really didn't realize just how much muscle I had lost. Clearly I was going to only manage short trips and gradually work myself up to longer distances.
During my absence from work, major building renovations were underway. My boss was excited to show off the building changes, and I wanted to see my work friends to thank them in person for the lovely cards and gifts. Since I couldn't drive myself any distance yet Seaghan drove me and dropped me off for an hour's visit. When I arrived my boss was in the reception area with his back to me, and when he turned around I think it took him a few seconds to recognize me — I had lost a lot of weight.  As we toured the building I was greeted by large groups of coworkers in every area;  he said it was just like touring with a rock star! He must have shown me every corner of the building but I don't think he had no idea of how tiring it was; the building was over 175,000 sq. ft!
For the rest of spring and summer I enjoyed relaxing and resting. We had lunches at Wasaga beach, we did some road trips up north, and we drove to the Canadian Warplane Museum in Hamilton. I actually got a chance to sit in the pilot's seat of a Tutor jet cockpit. These are the jets that the Canadian Snowbirds fly in their beautiful air shows. It was much easier climbing in than trying to gracefully climb out, I can tell you that, but what a thrill.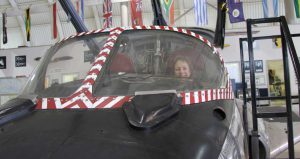 To cap the summer off in a fabulous and fun way, one of my sisters hosted a family BBQ for my (now late) dad's birthday, and to celebrate my cancer survival. We were presented with prize ribbons: I got an "I did it!" ribbon, while my husband received one for "MVP". We wore them proudly. They are a permanent display on my refrigerator and they still make smile.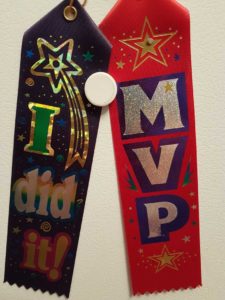 During my convalescence I became a bit stronger as the months passed, and my symptoms and side effects were changing. More on that to come.
—Sandi
Next time: Some symptoms and side effects leave, new ones arrive.
SaveSave